Join us on a tour of LATTICE80 and dive into 2018's FinTech Trend Predictions with panelists from the LATTICE80 community. Click here for the Eventbrite page.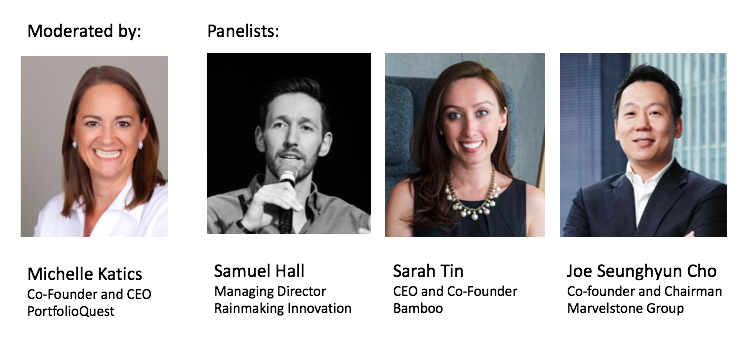 Michelle Katics is the Co-Founder and CEO of PortfolioQuest, simulation training and certification for bankers and FinTech lenders. Prior to this, she was Co-Founder and CEO of BankersLab, which created the award winning and patented "flight simulators" for FinTech and Bankers.
Samuel Hall is Managing Director, Singapore at Rainmaking Innovation and Startupbootcamp FinTech in Southeast Asia. Working with early and growth stage startups, he focuses in particular on business model validation, product development and corporate/startup collaboration. Prior to Rainmaking and Startupbootcamp, he founded startups and worked with FinTech companies in the UK and North America. Sam previously worked as a corporate lawyer, and when he's not working with startups and on corporate innovation projects, he claims to be a basketball aficionado.
Sarah Tin is the CEO and Co-Founder of Bamboo, a FinTech company that simplifies expense management for small businesses in Asia. Sarah believes that happiness will find you, if you do what you are passionate about.
Joe Seunghyun Cho is the Founding CEO at LATTICE80 & Co-founder and Chairman of Marvelstone Group. Marvelstone Group​ ​is a private investment group that develops and invests in growing businesses.
The Details:
10:00am – Registration
10:20am – 2018 FinTech Predictions
11:15am – Tour of Lattice80
11:30am – Refreshments and Networking
DATE AND TIME
Mon 13 November 2017
10:00 – 11:30 Singapore Standard Time
LOCATION
LATTICE80 08-01, 80 Robinson Road Singapore, 068898